Jiggler Mania
We just moved into a new neighborhood and one of the little girls who lives across the street brought us a plate of Jell-O Jigglers to say hello. "What are these?!" my girls asked with amazement, wiggling them around. Had I really not introduced them to the whole world of Jell-O and even more important the world of JIGGLERS!? We even live in Utah, how could it be?
So I decided to throw caution to the wind and fill my girls up with one of the least nutritious things you can eat…but seriously, they had never had Jell-O!
Jiggler Mania Salad
Ingredients
6 packages of Jell-O, all different flavors and colors
A pretty see-through bowl to put the Jigglers in
6 bowls
6 pans
Nonstick spray
Room in your fridge (this is an important one, do it BEFORE you go grocery shopping)
Directions
1. Get your supplies ready.
2. Boil a HUGE pot of water.

…
3. Dump all of the packets into separate bowls.
4. Add 2 1/2 cups of boiling water to each bowl and stir for 3 minutes until dissolved.
5. Pour Jell-O into trays coated with nonstick spray and put in fridge for 4 hours or overnight.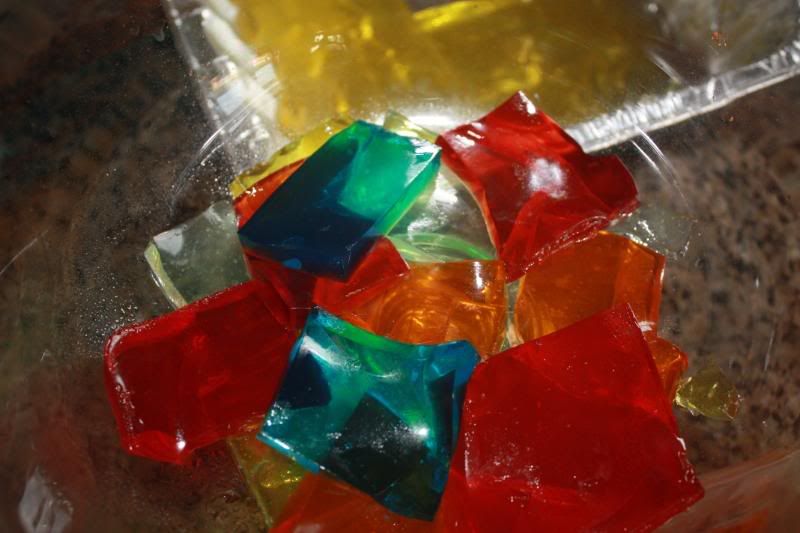 6. Cut into squares.
TA DA! JELL-O JIGGLER MANIA SALAD!
And now….we will not have Jello for 10 more years!