Giveaway #16—Just in Time for Christmas
The winner of this giveaway is Stephanie who said, "This ornament is gorgeous! I really hope I win! I went to the site and love everything! Those personalized bibs and blankets are adorable! I also love the sippy cups and frames."
THIS GIVEAWAY IS NOW CLOSED
Monogram Chick the queen of all personalized items is hosting a giveaway! Monogram Chick keeps a wide variety of personalized items and uses the highest quality components. The winner of this giveaway will receive a personalized Red and Green Dots Christmas Ornament retailing at 34.00 each. Perfect to showcase off a loved one in your life if it be your dog, cat, new baby or spouse. The ornament can be personalized with a name and a year and holds a 3″ x 3″ picture.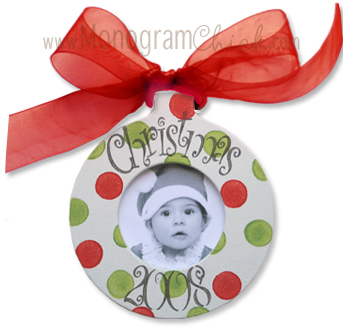 My wish list from Monogram Chick to Santa is growing longer and longer by the way be sure to check out her custom holiday stamps, personalized sippy cups and personalized frames. Monogram Chick is sure to fulfill everyone on your holiday shopping list.
To win this giveaway YOU MUST:

-Comment on this post ONCE.
-Visit Monogram Chick and comment on what you love. (Be sure to do this! I have had people's names be chosen but they have not commented on what they enjoy from the sponsor so I had to go to the next name!)
-Also if you want to be entered into this giveaway 10 ADDITONAL TIMES, all you do if have to blog about it!
Good Luck!
Tags: christmas giveaway