Friday: Play!—Valentines Day Craft
Since we had an extreme amount of buttons leftover from out last button craft, I have been looking for ideas to use them up!
I saw this fantastic idea for a Valentines Button Card on this blog (by the way the picture above is HER card, not mine
)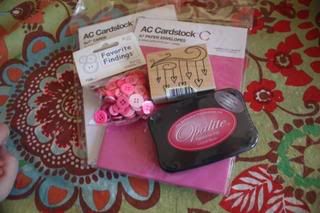 We collected our dozens of buttons, card stock cards, stamps, ink and glue.

Then, we traced a heart and placed our buttons where we wanted them to go.

We got busy gluing!

Our version of the Valentine Button Card, we made enough for all of our extended family and ourselves.
Happy Valentines Day!
Tags: friday, play!, valentines craft