What to do with all of those molds….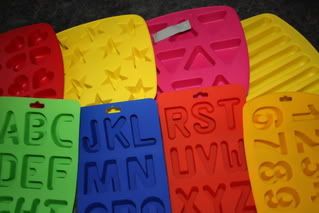 Thank you to all that answered my question (almost 100 of you!) that I posted a couple of days ago for the chance to win a $25 gift card to Amazon.
Ideas from YOU
1.       Soaps: bright colors for kids to write with in bathtub, add a scent and give as presents,   spell out thank you to give a different kind of thank you note, write out a child's name and give with a fun towel as a birthday present
2.       Drinks: use to make bright summertime drinks, make them lemon flavored for water, freeze grape or cranberry juice & put the "cubes" into fizzy water, juice cubes in martini-type drinks
3.       Treats: brownies, chocolates, fudge, fill with cornbread/muffin/cake mix, Popsicles, frozen yogurt, marshmallows, candy, bake crushed oreos in them, fill with softened ice cream and freeze, rice krispie treats, gummie candies, hard candies, alphabet crackers, juice bites, cake decorating, melt merkins wafers-pour in-allow to harden-pop out, smoothie pops, melt lollipops to make candy, ganache to make truffles, doctored up canned frosting for really interesting petit fours, small cupcakes dipped in chocolate
4.       Candles: birthday candles, floating candles, clear candles with little trinkets in them, scented candles, personalized candles
5.       Crafts: fill molds with resin-when hard glue magnet on back, fill with playdough-bake-make into magnets, paper mache-string together to make abc or child's name, beads and charms, glass sculpture, polymer clay shapes, unique jelly designs, moon sand, lip balm, clay, "finger jello", plaster of Paris, ornaments, necklaces, make your own paper, bread dough ornaments, model clay-make small hole before drying-turn into jewelry, melt beads to make magic wands (for long stick mold), window rainbow makers (by using clear and colored melted beads), salt dough, stick vaseline in before adding plaster of paris, stick vaseline and glitter in before adding plaster of paris, painting with ice cubes
6.       Jello: Jigglers! Creamy Jello (where you mix pudding and jello)
7.       Ice: plain ice, juice ice, koolaid, use to make a fun punch bowl, gingerale, ice sticks for drinks, freeze an "adult drink" to celebrate success, iced coffee, make hole in the ice and string and make bracelets out of them to use in summertime and watch melt
8.       Meals: meatballs, sausages, fruit cups (cut fruit up really small add water and freeze), pancakes, mold fresh butter, homemade baby food, rice, mashed potatoes, meatloaf, twice baked mashed potatoes, butter spreads & keep in individual toast-sized portions,  strawberry jam & butter pats for Valentine's Daymorning, frozen chicken stock: perfect for sauces & last min. additions, re-heating, Freeze small portions of pesto,  all sorts of garlicky-bread things, rice, dollops on top of pastas, freeze bits of soup/stock to use to cool down hot soup
9.       Outside: mud pies, use them as seed starters for spring garden, molds out of sand from the beach,
10.   Educational Games: fill up the letter with things found that begin with that sound, use molds for spelling, shapes, teaching letters, learning to spell names, etc.
11.   Personalized Gifts: Use any of these ideas to personalize a gift for a neighbor, child, loved one, co-worker, etc.
12. Art Projects: Add food coloring to the water before freezing. After they've frozen go outside in the sun and place the ice cubes on a ice of paper(thicker) and make and igloo then watch the ice melt and see the art your ice has created!
 Top 3 Most Interesting Ideas (in no particular order)
1. Eco-Friendly Idea–Mix dryer lint with Elmers Glue (or homemade glue) let dry and decorate. –Shelly
2. Wouldn't it be fun in the summer time if you had a little kiddy pool and you could make a human alphabet soup with the frozen ice. You could play a game were they had to grab the letters. It would be a fun swim game.—Sarah
3. Magic Wands—Use those long molds to make magic wands with a stained glass effect by melted clear and colored bead together. Magic wands that are also rainbow makers!–Lyndsey
WOW! I need to ask for your ideas more often! We are going to enjoy trying out all of these ideas. I think I am going to have to go with the human alphabet soup game idea, might be because I am wishing everyday that we could go outside and play in the kiddie pool! I know at my house even in the summer the outside water is pretty cool and the ice cubes would stay frozen enough to play this game. Congratulations Sarah you won the $25 Amazon gift card, I will email it to you!
By the way you can get the molds from Ikea and Spoon Sisters. Also here is my Recycled Crayon post for those of you who were asking how can use the molds to make crayons.
Tags: ideas, mold ideas