Wednesday:Mid Week Ramblings—Giving Kids Their Space
Kids really need their own space to calm down, work, play, read, draw or just be. Even if they can't have their own room or space for a little kid just spending time alone in a cheap pop up tent to getting to make a fort under the kitchen table will do. Every child needs their space to be creative, someday I would love to have one of these houses for my girls by Lillyput Play Homes, just a mere 5,000.
But for now here is my daughter's reading nook.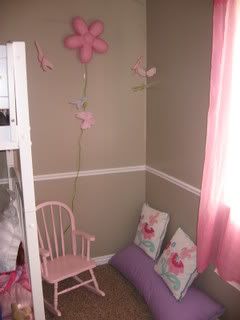 She is a really good girl but every once and awhile her tantrums are so bad I ask her, "Would you like to go lie down?" She will actually say, "Yes, please!" while hyperventilating and in-between screams.  I will go put her in her special place, close the door and in a few minutes come back and she is happy again.
 As Hal Runkel says, "Kids need room because without adequate space to explore and make their own decisions, they can never fully become the self-directed adults they need to be."


Tags: giving kids space, hal runkel, kids and creativity, lillyput play homes