Wednesday: Mid Week Ramblings—Job Chart
Click here for the giveaway.  
We started our first job chart! I am not the best at making things look pretty and crafty but my daughter loves it so that is all the really matters.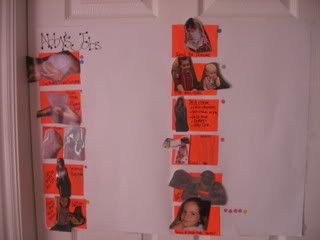 For a couple weeks I have been taking quick pictures of her doing things I know I would want to put on here. She was really excited to see pictures of herself hanging on the poster. I had her scribble away on the orange paper we were using to tape the pictures to. She helped me pick out which kind of stickers she wanted to use at the grocery store and what prizes she wanted to get at the dollar store.

So every Saturday if she has enough stickers she will get to pick out of the prize box where we have everything from a butterfly net to colored pencils.
What successes and failures have you had with the job chart in your house?


Tags: allowance and job charts, job chart, teaching kids responsiblity