Tuesday: Weekly Book Review—Our Collection of Holiday Books
I pack all of our Christmas-time books along with our decorations, that way every year they seem new. I would love to hear what unique books are in your holiday collection, I feel that my list is lacking a little.
I will only give summaries for the less known titles.
If You Take a Mouse to the Movies by Laura Numeroff, Illustrated by Felicia Bond
The Polar Express by Chris Van Allsburg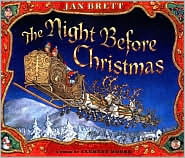 The Night Before Christmas by Jan Brett
Madeline's Christmas by Ludwig Bemelmans
How the Grinch Stole Christmas by Dr. Suess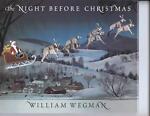 The Night Before Christmas by William Wegman was given to us one year from my mother in law who chose A Night Before Christmas book that fit each family. Ours of course was about dogs and this book is a family favorite.
The Christmas Bear by Anne Mangan and Joanne Moss is about a little polar bear who lives in a toy shop and longs for a home by Christmas.
A Cricket's Carol by Mark Kimball Moulton and Lisa Blowers focuses on the importance of family ties between our friends and neighbors and will teach your children about the true meaning of the holidays.
Mary Engelbreit's A Merry Little Christmas: Celebrate from A to Z by Mary Engelbreit is just the cutest little book. The illustrations are darling and I love how it is an alphabet book.
 P.S. On Blissful Kids there was a great post about a Storytime Christmas Countdown where you wrap up 25 Christmas books, unwrap one for each day in December and enjoy! They gave the suggestion to look the year before right after Christmas to get books really cheap. I will be keeping my eye out for them!
Tags: christmas books, holiday books, tuesday