Tuesday: Weekly Book Review—My Favorite Children's Cookbooks
Yes, I know, she is everywhere, driving lots of you a little nuts…BUT her children's cookbook is my favorite.
"Cooking Rocks! Rachael Ray 30-Minute Meals for Kids"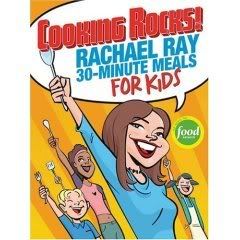 I have tried 15 of these recipes, AND LOVED EVERY SINGLE ONE! Each recipe will introduce your child to a new food or new flavor. Lots of them are extremely healthy, with lots of veggies.
As a book, the illustrations and fun and bright. It is very enjoyable to read and explains everything in great detail. None of the recipes are to complex to accomplish, and if you have a child who is a reasonably good eater lots of these recipes will be a win at the dinner table.
This is a cookbook your children will enjoy for years because each section is divided by age.
Some of the recipes we (including my husband, because usually they are a whole different story) tried and loved were:
Ages 4-6 
-Crunch Oven-Baked Chicken Toes
-Fuji Apples and Peanutbuttery Caramel Dip
-Panini (3 different recipes)
Ages 4-11
-Ravioli Stew (very very Yum-o…sorry I had to say it)
-Sloppy Turkey Joes
-Meatloaf Muffins with BBQ Sauce
Ages 12-16
-Tomato, Basil, and Cheese Baked Pasta
-Mexican Deep-Dish Pan Pizza
-BBQ Chicken Pizza (mix the bbq sauce with some duck sauce, even better)
-Cheesy Smashed Potatoes and Grilled T-Bone Steaks with Chipotle Chili Rub and Cilantro Lime Compound Butter
-Creamy Tomato-Basil Mug-O-Soup
-Chicken Cordon Bleu Burgers (I think this was my favorite one)
Snacks
Lots of fruit smoothie recipes
Now my opinion of the next book is based entirely on how you have raised your kids to eat.
I made my infant's baby food, introduced them to different flavor and spices VERY early in life. They have always ate what we eat at the dinner table and will eat anything from prosciutto to coconut milk. This next cookbook will be a great addition to your collection IF you have good, brave eaters in your house. Yes I know someday I will get a picky eater….but until then.
"Kitchen Playdates" by Lauren Bank Deen.

It includes easy ideas for entertaining that include the kids, 70 delicious recipes, menus, activities and 1o playdate ideas.
The cookbook is beautiful, pictures gorgeous, it is such a top notch book, from how it is organized to the list of things she would like for you to keep in your cupboard. Just reading that will give you many ideas for dinners.
While reading the reviews, some parents did not enjoy the book because of the "fancy" ingredients being used, how they thought it was such a waste. The point of this book was to bring part of your social life as an adult back in, to enjoy classier dinners and company with others. I don't think giving my child prosciutto (it actually is one of her favorite things) is a waste, and I really love the idea of once and awhile doing classier restaurant like menu with a friend, her children, and my children.
I have only tried a few recipes so far, amazing recipes. Comment on your results.


Tags: book review, Books/Reading, cookbooks, lauren bank deen, playdates, rachael ray, recipes, tuesday, Tuesday: Book Review