Tuesday: Weekly Book Review—Summer-time Books
(The Peter Pan DVD Giveaway is on the following post) 
I found three books recently that we are really enjoying to go along with the warm weather (finally!!)
I am hoping if I continue to read this book to my daughter every single day and she bugs her Daddy every single day to go to the beach we might end up doing it. Because boy do I really miss the beach and there are three frames hanging over my stairs that are supposed to be displaying black and white prints of my girls having fun in the waves and sand.
Wave by Suzi Lee
This is a wordless book, painted in just two shades of water color, it follows a little girls day at the beach.

The next one is Summer by by Alice Low and Roy Mckie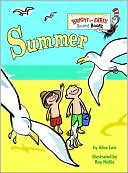 My daughter loves this one because they do all the things she has been doing this summer: eating watermelon, ice-cream, catching butterflies in their net and hanging around with their dog. This is also a good beginner book for new readers and has a catchy rhyme and rhythm to it.
You can buy it here.
The last one is America the Beautiful by by Katharine Bates (Author), Wendell Minor (Illustrator)
The illustrations go along beautifully with the song, all nature paintings that capture each line perfectly. This is a great book to use to introduce this song to your children. And just in time for the 4th of July!
What books do you enjoy that go along with Summer?


Tags: america the beautiful by katharine bates and wendell mi, children's beach books, fourth of july children's book, summer by alice low and roy mckie, summer time books, tuesday, wave by suzi lee, weekly book review