Tis the Boutiquing Season (in Utah)
My mother got me hooked on boutiquing at a young age.  I blame her for this 😉 But we have so much fun together and now we are working on hooking my girls on it.
This past weekend was the Tom & Lucy Art Boutiquein Lehi, Utah where we have gone for the past two years (or maybe three??).  This year, they had a few *new* vendors that I am now in love with. One very smart vendor with finger puppets for a dollar.  My girls bought a few:
And, of course, we also had to get some goodies from the wonderful Kitty.  Boy, are we hooked on her treats! Check out the adorable kitchen towels I treated myself to:
Sad you missed this boutique? Not to worry.  There are two more of my favorites in Utah coming up in the next two weekends and you can bet I will be there with my mother!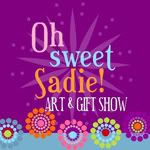 THIS Weekend (April 30th & May 1st) is Oh Sweet Sadie! They really hit the bar and go far past it every single year. The location, vendors and atmosphere are ALL perfect.  I really love this boutique. My absolute favorite part of the boutique is Berylene and her Peanut Butter Cups. The End. Amazing. Why haven't you had one yet? Get on it.
Then the following weekend (May 6, 7 and 8) is The Beehive Bazaar.  I try to get everyone to go with me every single year. You have to hit it at the right time (first thing in the morning on Friday) or you will be standing in a line for way too long. (They do try! It is just too fabulous to keep up with) The talent, uniqueness and love that every vendor has for their products just blows me away every year.
Ahh how I love boutiquing.  Hope to see you at some of these as well!
Tags: beehive bazaar, oh sweet sadie boutique, tom and lucy boutique