Thursday: The Importance of the Arts—Pollock and Marbles
Today was Abby's first real "art lesson" involving the painting Number 31 by Jackson Pollock and the marble art lesson from Scribble Art by MaryAnn Kohl.
I let Abby pick out the colors of paint at the craft store along with a bag of inexpensive marbles, two different sizes. We lined a old yucky cookie sheet with a piece of paper then squirted bits of paint on the paper.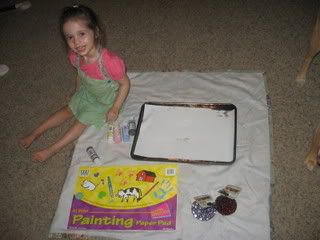 We dropped the marbles on and Abby shook the pan around or moved the marbles around with her finger.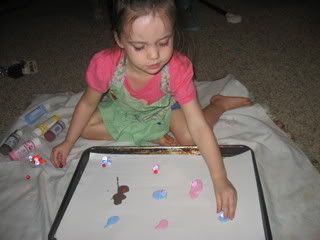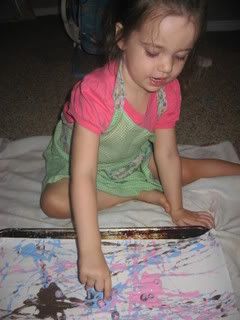 I let Abby experiment to see what happened when we only added a little bit of paint or a lot of paint. What happened when we shook the marbles around tons or just a little bit. Next time we do this craft I will try different sizes of paper and pans, a pie pan would have been much easier for her to shake around  and I could have used a white paper plate.
Then after her nap when all her paintings were dry I had them hanging on our back window and told her a little bit about Jackson Pollock. I told her how he would drip, smear, pour and fling the paint when he was creating. That he would use sticks and knives and tack his paper onto the floor or wall. I explained to her that this was a bit different that lots of artists who use easels and how Pollock became part of his painting by the way he "actioned painted."
We had fun comparing the painting we had to made to his, I asked her if she liked Pollock's paintings and her response was, "Uh…I don't think so."
Someday we go to to the Museum of Modern Art and see if for ourselves, maybe by then she will have changed her mind.
Here is her masterpiece, "Number 2"

Tags: importance of the arts, jackson pollock, marble art, thursday