Thursday: Importance of the Arts—Culinary Skills
I know for some of you the first thing you picture when you think of cooking with your children or letting them cook is this: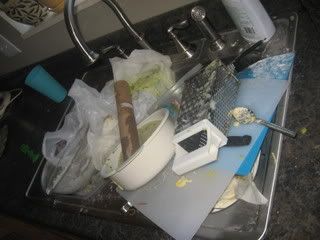 And yes this is an actual picture of after I let my child help me make dinner.
But you know what? Even though she is only two I could see her in face how proud she was of herself when she was cooking and when we were all eating it for dinner. The excitement on her face alone is the reason I just have fun letting her help me cook and when she is off to bed, I know I have a dirty kitchen to go clean, but it is all worth it. (Note, she does help me clean up a little and as she grows older I will make her help me more
)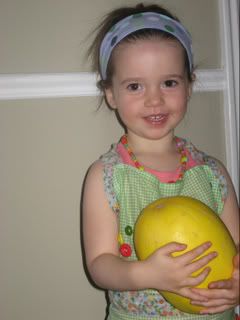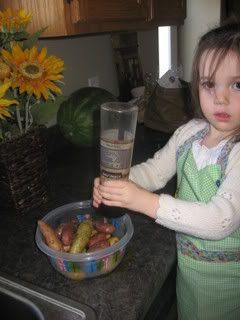 There are several reasons to support the importance of cooking with your children, here are just a few:

-It teaches your children mathematics

-Gives your child a sense of pride and accomplishment

-Helps your child's self esteem

-Will help your children try new things, they are more likely to eat what they help make

-Can help your child to become a healthy eater

-Cooking is a lifetime skill

-It is a great chance to bond with your children

-It is also a great time to talk with your children, they are often more willing to talk about things that are bothering them when you are working on something together I have found.

I have a very long scar on my left hand's pointer finger to prove that my mother took the time to teach me to cook and have me in the kitchen with her. I am not promoting that you put your child in any sort of danger, always practice safety and common sense when cooking with your children BUT I am grateful to my mother for taking the extra time for cooking with me.

Here are a couple recipes we have made together this week and that were delicious!

Spaghetti Squash (my version of Confetti Spaghetti from Kitchen Playdates by Lauren Bank Deen)1 large spaghetti squash2 T extra virgin olive oil¼ tsp kosher salt¼ tsp freshly ground pepper6 T Butter1 red bell pepper, seeded, deribbed and diced1 zucchini, sliced in half and cut in moon slices¼ cup fresh lemon juice¼ cup chopped parsleyFreshly grated Parmigiano-Reggiano

Preheat the oven to 400

Cut squash in half lengthwise and scoop at all the seeds. Rub the squash inside and out with oil and sprinkle the inside with salt and pepper. Put cut side down on baking tray, cover with foil and bake for 45 minutes. When rind is slightly soft and gives with a little pressure.

With a fork scrape out the flesh creating strand of "spaghetti"

Heat a large sauté pan over medium high heat and melt the butter, brown a little and then add zucchini, red bell pepper, salt and paper. Remove from heat when warmed through and ad the lemon juice and parsley.

In large serving bowl mix together and serve immediately.

 

 

 

 

 

Parmesan Chicken Fingers

from Kitchen Playdates by Lauren Bank Deen

¼ tsp kosher salt1/8 teaspoon freshly ground pepper½ cup self rising cake flour (if you don't have this add ¾ tsp baking powder and ½ more salt to all purpose flour) 1 egg1/3 pound Parmesan cheese, grated1 pound chicken tenders¼ cup olive oil3 T butter2 Lemons, quartered

Preheat oven to 300 degrees

In  a shallow bowl or plate, combine the salt and pepper with the flour. Beat the egg in another shallow bowl, and put the cheese in third shallow plate. Dredge the chicken tenders in the flour and pat off the excess. Dip in the egg and let the excess drain. Dredge the tender in the cheese, covering both sides evenly and pressing firmly so the cheese adheres. Dredge the remaining tenders in the same way.

Heat 2 tablespoons of the olive oil and  tablespoons of the butter in a nonstick skillet over high head until bubbling. Add a few pieces of chicken and cook for about 2 to 3 minutes per side. Place chicken on a baking sheet and keep warm in oven. Continue cooking until al the chicken is done, wiping the pan as needed and adding additional oil and butter. If the cheese I getting too dark, readjust the heat.

Serve on a platter, skewered with lemon wedges.
 

Zucchini Frittersfrom Jim Botsacos of New York City's Molyvos restaurant.Serves 12, I have made this for breakfast and for a side at dinner. It is one we make a lot because vegetables are hard for my husband to like and this is one he will eat along with the rest of us.
1 cup all-purpose flour

1 1/4 teaspoons baking powder

Coarse salt and freshly ground black pepper

3 medium zucchini

1 medium onion, halved

2 tablespoons Greek-style plain full-fat yogurt

1 large egg, lightly beaten

1/2 cup olive oil, plus more as needed

Yogurt Dill Sauce for serving (recipe follows)
Directions
In a small bowl, whisk together flour, baking powder, and 1/8 teaspoon salt; set aside.

Grate onion on the large holes of a box grater into a medium bowl. Transfer grated onion to a piece of cheese cloth. Squeeze excess liquid from onion and discard. Transfer onion to a clean medium bowl; you should have about 1/2 cup grated onion. Grate zucchini into bowl with onion on the large holes of a box grater; you should have about 3 1/2 cups grated zucchini. Add 1/2 teaspoon salt and toss to combine; let stand 30 seconds.

Transfer zucchini and onion mixture to a clean piece of cheesecloth and cover. Squeeze out as much liquid as possible and discard. Transfer zucchini and onion to a large bowl. Add yogurt and egg; season with salt and pepper. Stir until well combined.

Slowly add 3/4 cup of the flour mixture, while folding it into the zucchini mixture. If mixture seems too wet, fold in 1/4 cup more.

Heat olive oil in a medium skillet over medium-high heat. Working in batches, using about 3 tablespoons of the zucchini mixture, gently form a patty and place in skillet. Cook until fritters are firm and begin to turn golden on the bottom, about 2 minutes. Turn fritters and continue to cook about 2 minutes more. Turn fritters again and cook for 30 seconds; transfer to a paper towel-lined plate. Repeat process with remaining zucchini mixture, adding more oil as necessary.

Season fritters with salt and serve immediately with yogurt-dill sauce.
Ingredients for Yogurt Dill Sauce
Makes enough for 12 fritters
1 cup Greek-style plain full-fat yogurt

2 tablespoons milk

3 tablespoons fresh chopped dill

Coarse salt and freshly ground white pepper
Directions for Yogurt Dill Sauce
Mix together yogurt and milk in a small bowl until well combined. Fold in dill; season with salt and pepper. Keep refrigerated until ready to use.
Tags: cooking with kids, culinary skills for kids, importance of the arts, joys of cooking with children, kid recipes, recipes, thursday