Thursday: Importance of the Arts—Art Group #3
Watercolor painting on coffee filters. The coffee filters are so cheap and the water color paints blend so pretty together.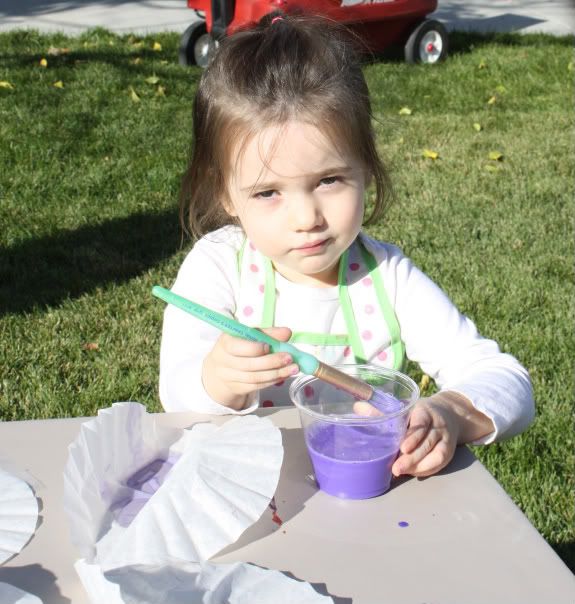 You can rip them up and make a pretty collage out of them or we made them into butterflies with the thousands of pipe cleaners we have in this house!

Then we did string painting, quite simple give them a ball of string and let them paint with it! I wanted to be able to spread the string out on one side of the paper and then fold it over to make a press but it was way to windy outside!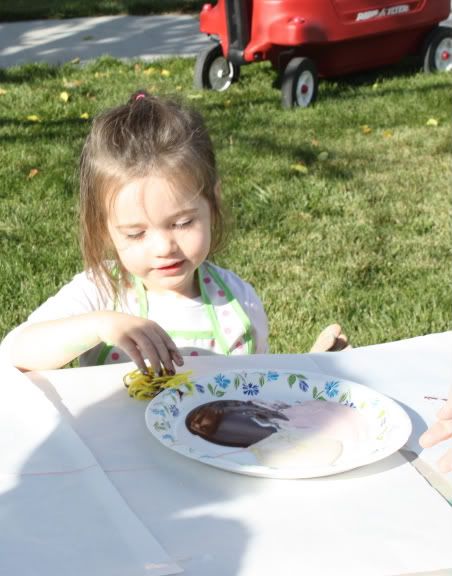 Seriously, Art Group is so much fun
Love the art smocks, you can pick one up at Jessica Leman's Esty Shop.
3 Responses to "Thursday: Importance of the Arts—Art Group #3"
October 23rd, 2008 at 5:40 pm

I'm salivating. That looks so good and your commentary is so funny! Sadly, chocolate milk is just a treat in our house. I may make it more of a staple after this though!

thrilled by the thought

October 23rd, 2008 at 5:42 pm

Woops. I was typing a comment in thepioneerwoman.com and in yours at the same time and somehow pioneerwoman's ended up here! Disregard that previous comment. This one is for you.
I love your art group ideas. I want to come. I'm going to one of these days!

kat

November 14th, 2008 at 3:38 am

Great idea. Arts & crafts are the best activities for kids, and making it an organized event makes it even better.
Leave a Reply