Tea Party in the Woods
I did a tea party in the woods two years ago with my girls and they still remember it, so I thought I should do it again. This time, I invited my sweet nieces. But look at how itty bitty my girls were back then: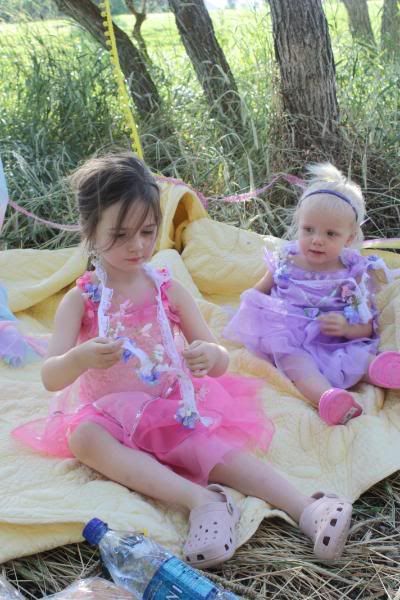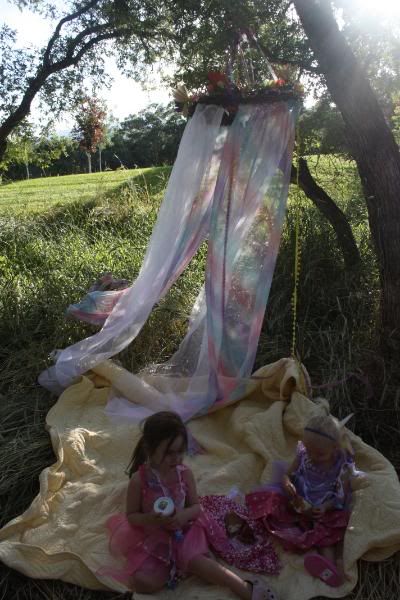 Ahh, melts my heart. Now for two years later…
Tea Party in the Woods
Menu: Butterfly PB &Js, Fruit Butterfly, Butterfly Cupcakes, "Tea" with all the fixings
Party Favors: Fancy Fans (see how to make those over at my guest post on Make & Takes. Thanks Marie!), Feather Boas and Personalized Name Bracelets
Decor: Celebration Wreath (see my how-to post by scrolling down a bit) and a hot pink sequined tablecloth
I'll just let the pictures speak for themselves (pardon all the weird shadows in the pictures…we WERE in the middle of the woods after all):
Also, my sister let me know that it was Mad Hatter Tea Party link up time over at A Fanciful Twist. You should check out all of the tea parties in the links and of course Vanessa Valencia's own tea party. Wow, wouldn't it be amazing to attend something like that? Check it out here.
Tags: tea party in the woods
4 Responses to "Tea Party in the Woods"
July 6th, 2011 at 4:13 am

Summer Camp for Kids: Fancy Fans | Make and Takes

July 7th, 2011 at 9:33 am

[...] you enjoy this Fancy Fan craft as much as my three little girls did! We used them at our Tea Party in the Woods that we had last week. Such a fun addition to a [...]

Kelly F

July 18th, 2011 at 4:37 pm

I just have to say that you are so imaginative. Your girls are lucky to have such a fun mom! Hope I can think up fun thinks to create memories with my kiddos as they grow!

fife self catering

August 16th, 2011 at 6:45 pm

If your post was a quote, it would be, "Prosperity is a great teacher adversity a greater..".
Leave a Reply