Sunday: Entertainment Review—Little Einsteins
Little Einsteins is an educational preschool series to teach art and music appreciation by integrating famous or culturally significant art works and classical music into the scenery, plot, and soundtrack of each episode. The show is interactive (patting their legs, gesturing, or singing along to help the characters succeed on their "mission").
Little Einsteins features four children — Leo, June, Quincy, and Annie — along with their intelligent and transformable space/air/water-craft, "Rocket". In each episode they embark on an adventure (or "mission") to solve some problem or help a new friend. These missions take them to far-flung locations including foreign countries and "extreme" environments, underwater, or outer space. The characters' talents and participation of the audience are required to surmount various obstacles to completing the mission. Each episode concludes with a "curtain call" crediting the team members, ancillary characters, and reviewing the featured art and music selections.
Leo is a six-year-old boy, the Little Einsteins leader, and the one who pilots Rocket. His main talent is conducting and his most precious object is his baton; he never leaves home without it.
June is a six-year-old girl who loves to dance. She also loves to look at the stars at night with her telescope, and is friends with one of Saturn's rings. She loves art.
Quincy is a five-year-old boy who loves to play every type of musical instrument, the violin, the guitar and the trumpet being his favorites. He is the only member of the team who is afraid of the dark.
Annie is a four-year-old girl who loves to sing. She loves animals, her favorite sea animall is the dolphin and She owns a silver microphone with orange music notes she uses to sing.
Rocket is the Little Einsteins' main transportation, but it is also their friend. Rocket has a bunch of tools and accessories that help the team complete their missions.
The show is fun to watch, no overly silly or frightening and is extremely educational. If you plan on or your child is in any type of music lessons this will be the perfect show for them.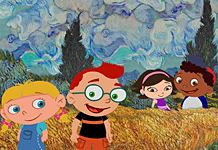 Tags: disney channel, entertainment review, little einsteins, music, sunday