Sunday Entertainment Review: Ni Hao Kai-lan
For my child's one show a day she was asking to watch Kai-lan, I had no idea what she was talking about but I turned it on for her.


 For you parents out there that cannot stand how excited and overly animated every single cartoon out there is, you will LOVE Ni Hao Kai-Lan.
The characters are very calm and content, they deal with each-others emotional issues and getting along in a group. For example one episode deals with learning to be patient, one learning to be calm, and another teaching how to see from other's perspectives.
 I really enjoyed how they dealt with problems, made it easy to understand and problem solved together on how to fix it. I am also excited that we will learn a little more about this different culture, their holidays, food, traditions, etc. It even inspired me to cook Bok Choy stir fry for dinner (first time using the vegetable, VERY tasty by the way).
Here is a quick overview of the characters from http://www.nickjr.com/
"Meet the Characters
Kai-lan Chow is a playful, adventurous preschooler with a big heart. She is almost 6, speaks both English and Mandarin Chinese, and is super excited to share her language, her culture, and her playtime–with her animal friends and children at home!
YeYeis Kai-lan's grandpa. He lovingly passes on his rich and colorful world full of Chinese customs and traditions to his granddaughter. YeYe provides Kai-lan with gentle guidance, leading her to find her own answers, at her own pace.
Toleeis a 5-year-old panda-loving koala who puts his friends first. He's the thinker of the group, and Kai-lan and her friends can always rely on him for good ideas and to think before he acts.
At 3-years-old, Hoho the monkey is the youngest of Kai-lan's friends. He's full of boundless energy, he's super good at jumping, and loves to DJ. Nothing makes Hoho happier than being the center of attention.
Rintoois a rambunctious 5-year-old tiger who's best friends with Kai-lan. Rintoo has a thirst for adventure and thrills, but beneath the bravado he's a sweet and caring tiger who looks out for his friends."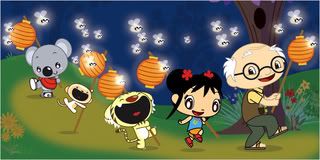 Check it out and let me know what you think!


Tags: dinner, entertainment review, ni hao kai-lan, nickjr.com, problem solving, sunday, Sunday:Entertainment Review, television