Sunday: Entertaining Idea—Grandma's Valentines Day Party
My mother knows how to celebrate holidays, it is one of the things I love most about her. She makes everyone feel so loved on holidays and their birthdays.
We talked about getting together for a little Valentines Party with my girls and my brothers. Little did I know she was going to go all out! What a great Grandma!
Grandma's Valentines Day Party

Attire–Everyone was told to come in their favorite Valentines Day shirts and she provided fun Valentine Buttons for the girls
Decorations—Pink and white heart dollies scattered across the tablecloth, homemade valentines adorned on the wall and fun heart tablecloths.
Games
BINGO–She printed out this graphic and had us cover up the images with fun shaped graham cracker snacks.


Scavenger Hunt—Grandma put together a simple scavenger hunt with the clues written on hearts that ended in a fun present for everyone.
Candy Necklaces—Did you know they sell candy necklace kits at Walmart and craft stores? They do and are tons of fun, Wilton sells them.
Heart Garlands—Simply take a piece of colored tissue paper, fold correctly and cut out a heart!
Sugar Cookies—There is something missing if you do not eat a sugar cookie on Valentines Day! Grandma went all out with the collection of decorations to add onto the cookies. Her famous sugar cookie recipe includes sour cream.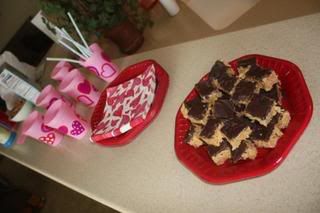 Chocolate Dipped Rice Krispie Squares
Yes we are spoiled
Share what you did/plan to do to celebrate Valentines Day!
Tags: craft, entertainment idea, food, holidays, sunday, valentines day