Sunday: Entertainment Review—Best Appetizer for Your Halloween Bash
The giveaway is in the following post.
Little Critters/Spider in a Blanket
We use these ingredients plus a little mustard and ketchup for decorating.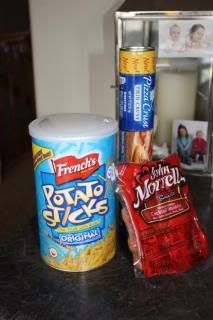 You roll out the packaged Pizza Dough and cut into little squares, place the little hot dogs and roll the dough around it. Cook according to direction on the Pizza Dough package.

Take the potato sticks and make little legs for the spider. Then make eyes and some spots with the ketchup and mustard. My camera died before taking a really good shot so this one will have to do but they did look better
My kids loved these Little Critters!