Saturday: Shopping!—Handmade Christmas Project #1
Gulp…..I am attempting a handmade Christmas. Which I am sure is making my Mother laugh her head off, I refused to learn how to sew or "craft" growing up. I am going to personally make many presents and also buy handmade from Etsy or other small companies. So until December I am going to share every week what I am working on or buying, here we go….
Project #1 Gratitude Wraps
I saw this idea on Soule Mama, she has a wonderful FREE templatefor her gratitude wraps.
They are a fabric wraps that holds stamps, stationary and a notepad for writing thank you, love or every day letters to loved ones.
Where to get the materials:
Cicada Studioon Etsy has the most beautiful fabric I have ever seen, which is where I got all of the fabric that I used for the wraps.
I found (after quite a bit of searching) a shop on Ebay that sells the correct size of Moleskin Notebooks to fit the wrap. We bought some hand carved stamps to decorate the pages with from the Etsy shop Wimsy By Jess.
Picking out the stationary was my favorite part, Target surprisingly has a new line of stationary that is very natural looking. Etsy shop Lizzy Clara had such a fantastic selection of cards, here is just one:
Scarlet Tanangers Thank You Note Collection 12.00
And of course, I have to fill them with stationary from Sarah Jane Studios which might be my favorite thing in the whole wide world.
Goodnight Friend 16.00 for a Count of 10
For the stamps you can go to Stamps.com and make some photo stamps or just find a collection of stamps that goes with the rest of the wrap.
This I think was my hardest project to complete and I am happy to say I got this one out of the way first.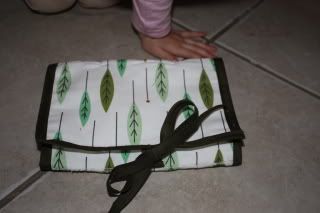 Tags: handmade christmas, saturday, shopping