Saturday: Shop!—Handmade Christmas Project #9
Another great idea from the best $7.95 I have ever spent. I will use this magazine my whole life for Christmas, such fantastic ideas, did you pick it up yet?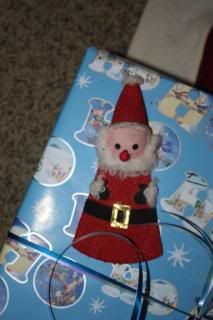 This little Santa my Mother would place on a gift every year for Christmas, we were always excited to see who was the lucky one to recieve it each year. She passed it onto me last Christmas and am I excited for my girls to learn to love this little Santa too.
It got me thinking of present decor/ornaments that could be special in my home along with little Santa. While browsing through the magazine (pictured at the top of the post) they had beautiful handmade letters made out of jewelry supplies. Since I never got around to my jewelry making project
I thought this would be the perfect thing to do!
I apologize, I should have taken pictures as I made these but I did not. Pick up the magazine or email me if my instructions leave you with questions.
Buy some jewelry wire, what gauge you need will depend on what type of beads you are using. I bought 24 gauge silver wire (you can buy nickel also) but some of my small beads would not fit on, although the wire was much more firm. Be careful not to buy beads that are to LARGE for your wire or they will slide right off even if you bend the wire at the bottom.
Get our your wire cutters and flat nose pliers. Measure out how much wire you will need to make the letter (try not to bend it to much yet) and bend down one end with the flat nose pliers.
String the beads on! Then bend down the other end of the wire. To decide how to form your wire into a letter, I just looked at different fonts on my computer to see what I would like. If it is a letter that you will need more than one piece for you can easily just connect them together.
Sometimes the little details during the holidays are the most cherished. You can use these every year or turn them into ornaments!
T for Tyler

V for Vanessa

A for Abby

C for Cameron

Tags: christmas craft, martha stewart