Perfect Potluck Item
My mother in law is a fantastic cook.  Last time we were in CA she made this pasta salad. Now it is my go-to potluck item.  I always go home from a party with a list of emails to send the recipe to. It is perfect for those of us that don't eat meat.  You can make it with whole grain or gluten free pasta.  It is light, fresh and oh so yummy.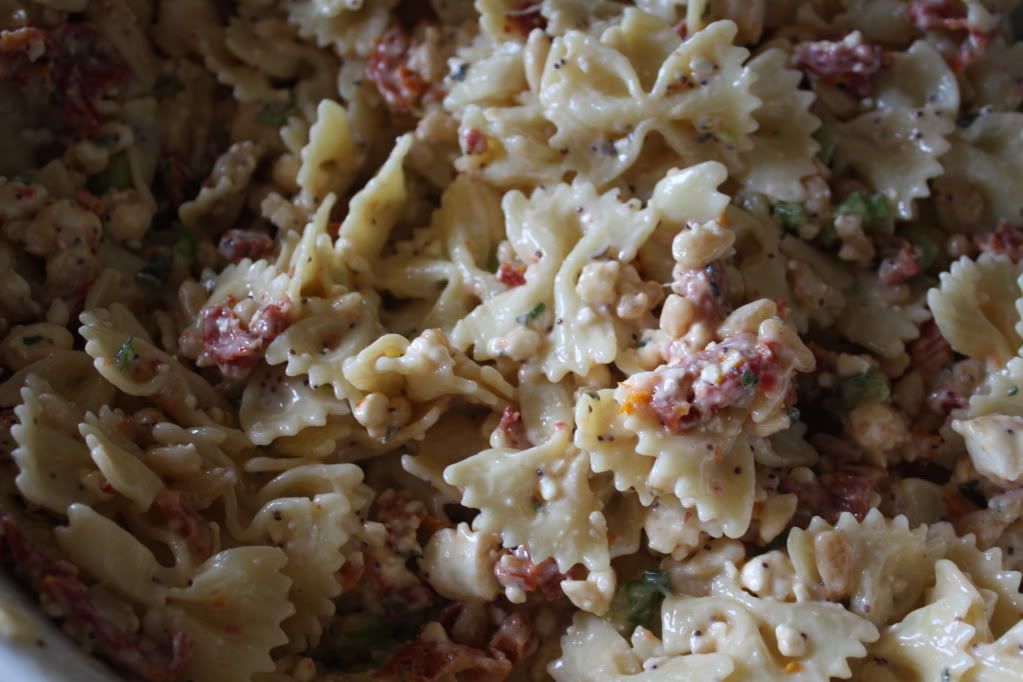 Pasta Salad
Ingredients:
1 lb box medium shells or bow tie pasta
1 1/2 container of feta cheese (8oz each container)
1 cup chopped sun dried tomatoes (packed in oil)
1 bunch green onions (about 8)
2 bottles Marie's Poppy Seed dressing (I haven't found this in Utah so I just buy a higher quality of dressing)
1/4 cup chopped fresh basil (When I have to I used dried, like in these pictures)
1 cup pine nuts toasted
Directions:
Cook pasta to desired tenderness but not too soft
When partially cooled, pour one bottle of dressing over shells and stir in.
Chill in refrigerator (I chill for HOURS and sometimes overnight).
Drain oil from the sun dried tomatoes and chop into small pieces
Put all together, chopped green onion, chopped basil, feta cheese,
pine
nuts
.
Mix the above into the noodles.
Add more dressing for desired taste and moisture.
Tags: pasta salad