Perfect Potluck Item
My mother in law is a fantastic cook.  Last time we were in CA she made this pasta salad. Now it is my go-to potluck item.  I always go home from a party with a list of emails to send the recipe to. It is perfect for those of us that don't eat meat.  You can make it with whole grain or gluten free pasta.  It is light, fresh and oh so yummy.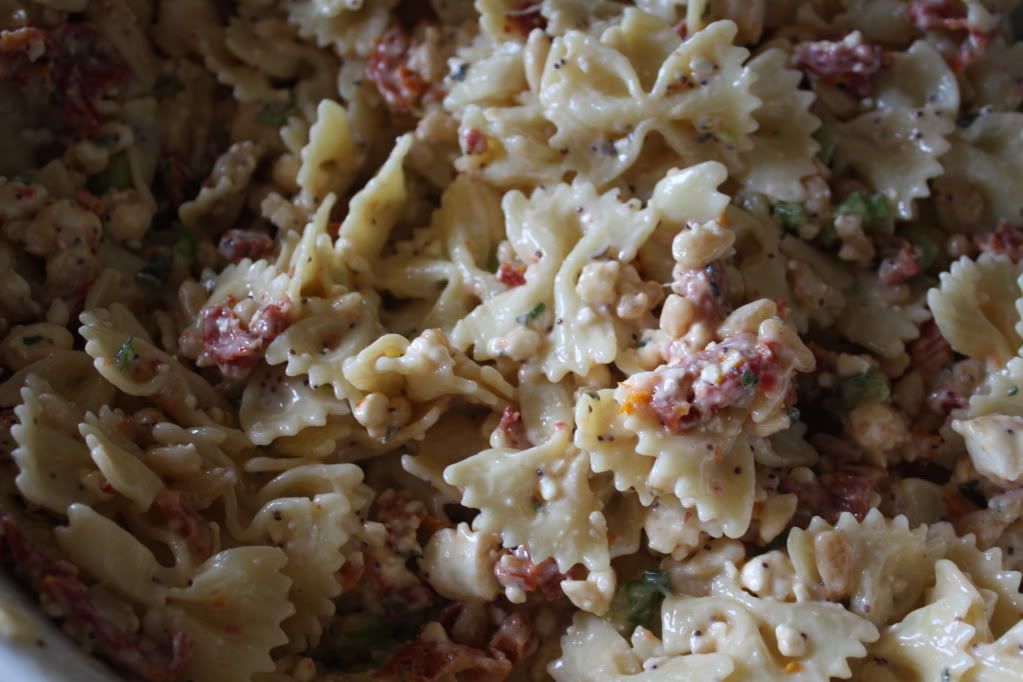 Pasta Salad
Ingredients:
1 lb box medium shells or bow tie pasta
1 1/2 container of feta cheese (8oz each container)
1 cup chopped sun dried tomatoes (packed in oil)
1 bunch green onions (about
2 bottles Marie's Poppy Seed dressing (I haven't found this in Utah so I just buy a higher quality of dressing)
1/4 cup chopped fresh basil (When I have to I used dried, like in these pictures)
1 cup pine nuts toasted
Directions:
Cook pasta to desired tenderness but not too soft
When partially cooled, pour one bottle of dressing over shells and stir in.
Chill in refrigerator (I chill for HOURS and sometimes overnight).
Drain oil from the sun dried tomatoes and chop into small pieces
Put all together, chopped green onion, chopped basil, feta cheese,
pine
nuts
.
Mix the above into the noodles.
Add more dressing for desired taste and moisture.
Tags: pasta salad
8 Responses to "Perfect Potluck Item"
September 30th, 2009 at 4:24 am

This looks so yummy! I can't wait to try it!

Von

September 30th, 2009 at 4:59 am

This look delish, and that is saying a lot since nothing has looked really great in weeks. I might make it, that would be something…wouldn't it! LOL

Kendahl

September 30th, 2009 at 2:21 pm

My mom would LOVE this! I make something similar, only with ranch and bacon [so, the meat-eaters version ].

Steph

September 30th, 2009 at 3:37 pm

Oh my yummy! I will try this soon. My family LOVES pasta salad.

Recipe wrap-up, part 2 | is this REALLY my life?

January 19th, 2010 at 7:52 am

[...] I Never Grew Up: Perfect Potluck Item (Have you lost count of how many potlucks you've been to and are going to this month? If you need a new idea for a dish, try this one!) [...]

Frederick Zega

November 17th, 2010 at 5:17 pm

Thanks for that. We're having a big potluck party this month, for Xmas I guess and I've been trying to find something special to take.. found some awesome ideas at this potluck recipes site. You know, someone should invent a website where you can write what you'll be taking, and it would check no one is bringing the same thing!

Angie

July 11th, 2011 at 11:17 pm

Perfect! I was just looking for something to make for dinner and happen to have everything here. It sounds like a winner.

the miranda rights-5

April 20th, 2013 at 6:14 pm

I view something genuinely interesting about your website so I saved to fav.
Leave a Reply