Thursday:Importance of the Arts—Coloring and Broken Crayon Craft
The Importance Coloring (I didn't realize this was my second post on coloring, hopefully I didn't repeat myself to much)
This is something you can start maybe earlier than you think. I would tape a large piece of paper on my daughter's high chair tray, give her some over-sized crayons and she really enjoyed it. Of course it takes them awhile to learn not to eat it, so you need to sit there with them. It is also a lot of fun for them to watch you draw/color. Grab an old box and color it with your child's favorite things. One of my daughter's favorite toys in her "Dora & Boots" box, she still crawls in and plays with her toys.
Self expression – coloring is a way to express yourself. Teach your children how you can tell a lot about a way a person is feeling by the images they draw and even the colors they use. Ask your child to study the picture and give you a story behind it or let them tell you what they think the illustrator was thinking. Not all children use words to express how they feel, you can learn a lot about your child by watching what they draw.
Color recognition-Children who color will most likely have an easier time understanding the color wheel and identifying their colors. This is very true, books and coloring helped my child learn her colors at a very young age.
Coloring is therapeutic. It can help your child deal with their frustrations, feeling and emotions. Use coloring with your children to help calm down and deal with a stressful day.
Grip-your child will learn how to grip onto and control writing instruments. It will also help with your child's future penmanship
Will help your child's hand eye coordination
Will help to build your child's motor skills
Self-Esteem-completing a drawing with help them to feel a sense of accomplishment
Bonding–coloring with your children, writing stories together, making portraits of each-other with strengthen your bond with your child
Great Websites to Get Coloring Activities and Print Outs
www.pbskids.org This children's website is the best "TV Show" website for coloring print outs.
Crayola has many pictures and art/craft activities for parents and educators to use with children
Color Matters is an exploration of many ideas about color by a former professor
and http://edtech.kennesaw.edu/web/colors.htmlColoring
Book to Go Along with Coloring Activity—Matthew's Dream by Leo Lionni

This is one my favorite authors, his writing is very…poem like, very beautiful writing. I was almost suprised that my 2 year old loves his books. This is a great book to go along with a coloring activity.
A poor mouse couple lives in a dusty attic where they have great hopes for their only child. When they ask Matthew what he wants to be, however, he is uncertain–until the day his class goes on a field trip to the art museum. The paintings make a profound impression on him, and they clarify his vocation; he is to be an artist. In one memorable turn of a page readers see just what the tiny dreamer has seen, as Matthew's imagination transforms the dreary junk of his attic corner into a Picasso-like work of art. Both the torn paper collages and the reproductions of museum " mouse terpieces" in various painting styles invite children to look and look again. A strong, fine book by an illustrator who, like Matthew, paints canvases "filled with the shapes and colors of joy." (review from Amazon.com)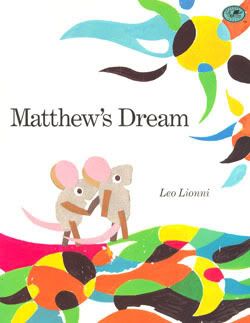 Broken Crayon Craft-Reduce/Reuse/Recycle!
Remove wrappers off old crayons and cut into pea sized shapes. Preheat the oven to 150 degrees.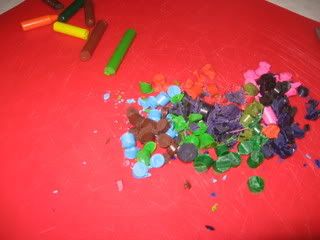 Place pieces into a mini muffin tin (or any other small mold you have) You could even separate the colors so your kids can choose what colors they want their new crayons to be.

Cook at 150 for 15-20 minutes, or until melted. Yes it will be runny when you take it out…(please excuse my dirty oven:))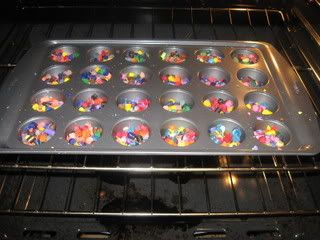 Let set, if they stick place the pan in the freezer for awhile and they will pop right out.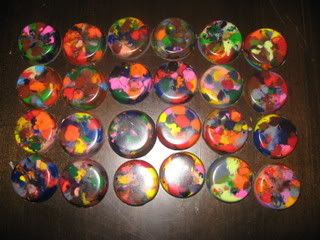 Tags: bonding, book, Books/Reading, broken crayons, color recognition, coloring, crayola, grip, hand eye coordination, leo lionni, matthew's drem, motor skills, pbs, printouts, recycle, self expression, self-esteem, therapeutic, Thursday: The Importance of the Arts, website