Monday's Maven
Monday's Maven
Full Name: Shelley Smith
blog: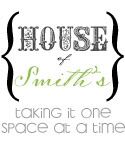 Location: SLC Utah
kids: Emberly & Jocelynn – 4 yrs, Aubrielle – 3 yrs
One Word that Describes You: Passionate
What makes you smile?
* Freshly bathed kids, with full bellies
* A husband who LOVES his job
* Breaking out into song and dance with my family… for no reason
* A spotless, bright, yummy smelling home
* Folded Laundry
* Chips and salsa
* Conversations with my kids
* Being with good friends, laughing, and talking till the wee hours of the morning
* A breezy, sunny, 70 degree weather, day
* Being able to do what I love.  Creating, Blogging, and Sharing my ideas with others
* The way my husband looks at me when we're laying in bed at night, talking about … nothing.
What is one of your dreams you hope to accomplish soon? LOL… it may sound shallow, and silly…but I DREAM of having living room furniture, someday soon!!! I've never owned NEW, "my perfect style", living room furniture.  And I've been saving money to do so.  It's taking forever!  But I will for SURE appreciate it all, once I have it
  (now if I could just stop changing my mind, about what I REALLY want…. lol)
One of Your favorite motherhood moments? Probably a few weeks ago… when all of my kids were sitting up at the counter, in the kitchen… I was making mac and cheese with chicken nuggets (a gourmet meal, in our house…for lunch, anyway) and my little 3 year old said…
"Mommy, you are the BEST-EST Mom, who makes the yummiest lunch for us to have in our tummies!"
Right after… all three of the girls raised their IKEA cups filled with milk, and one of the twins said.. "Cheers!"
And they all clinked their cups together. HAHAHA!  I about DIED with laughter!… It made me SO happy, proud, and glad to have kids who "appreciate the little things"
What is your guilty pleasure? A red box movie, the new Ballard design magazine, no kids… and a snickers bar. Boo-ya!
What do you love most about you? Hmm… I'd have to say that I feel like I can talk and be friends with, just about anybody! lol.
I've always felt the need to make people feel happy, accepted, and included.
There's nothing I hate more, then seeing someone left out, or feeling uncomfortable in a situation.  I'm definitely an extroverted personality, but I have quite a few family members who are extremely introverted.  And I've learned, by talking to those family members, how MUCH they yearn to be "part of the crowd" or "in the conversation" but lack the ability to take that initial "step" to get there.
I feel like everyone needs friends who understand them.  They "do good" for the soul.  They can soften a bad situation, relate to you, like nobody else can, and make you smile, even when you "think" you have nothing to be happy about.
Favorite Food? Mexican, Mexican, Mexican!!!
Who is your hero? THE Cason Smith… aka: My husband. LOL
He is … Patient, kind, understand, helpful, happy, accomplished, smart as a whip, friendly, thoughtful, romantic, nurturing, strong and confident.
He deals with my "crazy" on a daily basis (which makes him a hero to not only ME, but my family. LOL) and he knows exactly what to do and say, to make me happy.
Tell Us more about "Love the Space You're In" and how you work towards this in your home: I've always loved a clean, well kept, "pretty" home.  But for a long time, I was living in a "rut" … between how things WERE in my home… and how I "dreamed" they WOULD be.
One day I just… snapped! lol.  I pulled out some primmer and just… started over! (this is where that "crazy" kicks in, that Cason has to deal with) ha!
I can honestly say that when I wake up in the morning now, and walk into my living space, it makes me smile!
I rip open the blinds, let the sun shine in on my fresh "new" space … and feel ready to tackle the day!
Our homes are SUCH a reflection of who we are, how we function, and the way we live.
Before… I realized I was living in a dark, muted space.  And that had NOTHING to do with who I am or wanted to be.
I'm a stay at home Mom and business owner… my home is my office, playground, and sanctuary…
I wanted to be able to celebrate my space and make it a place that my family and I could enjoy with one another.
I believe that a Beautiful, Clean, Loved home…makes for a Happy Family.
It takes hard work and dedication.  But when you're done, making your home into a place that you WANT to be in… I have no doubt you'll be able to stand back and say…
"I LOVE my space!"
Tags: House of Smiths, Monday's Maven, Shelley Smith, Utah Blogger