Monday's Maven
Full Name: Camille
blog: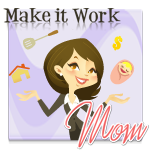 Kids: I have two little girls: Ad will be 5 in January, C8 just turned 2
Location: Utah
One Word that Describes You:
I couldn't decide between: "simple", "easy-going", or "tall".  So maybe "indecisive" would best to describe me.
What makes you smile? Butterfly kisses, any combination of chocolate and peanut butter, a good salsa rhythm, the hypnotic song of a coqui, Jim Halpert's practical jokes on Dwight K Schrute, sore muscles after a good workout, Harry Connick Jr, the color purple, watching the sisterly bond between my girls, lilacs, Christmas lights, family (to name a few)
What is one of your dreams you hope to accomplish soon? I would love to not have to work full-time so I can spend more time with my girls!
One of Your favorite motherhood moments?
Wow – to narrow it down to one, that's a toughy.  But one that just makes me smile every time I think of it was when I was pregnant – very pregnant – with C8, and Ad was sitting next to me, leaning against my very large tummy.  C8 was doing her usual tricks and somersaults to the point where Ad stopped, stared at my moving belly, then looked up at me with a smile saying, "I think she wants to come out and play with me!"  I couldn't have agreed more!
What is your guilty pleasure?
Anything sweet.  I used to have a fondness (aka "addiction") to donuts.  Throughout my childhood, my mom, sister and I stopped by Albertson's every week after our 5:30am piano lessons for a warm, out-of-the-oven chocolate bismark.  Also, I stood in line for hours at the grand opening of our local Krispy Kreme, which landed a live interview with the local news station (and complete embarrassment because I was not looking my best at 4:30am!) Lately, it has been a cupcake kick!  Thank goodness to many local cupcakeries to add some sweet variety (and a few extra lbs) to my life.
What do you love most about you? That I can learn from trials and "life experiences" rather than have them bring me down.
Favorite Place? When I was single, my favorite place to travel was always anywhere there was a beach!  Now, with children, I'd dare say my favorite place is Disneyland!  It really is a magical place, and the true enjoyment comes from viewing the wonder and awe in the faces of my little girls!  And I find myself getting just as giddy as them upon seeing a Disney princess!
Who is your hero? My mom.  She has raised (is raising still?) 8 children and throughout it all has demonstrated patience, unconditional love, service, and continues to do so with her grandchildren!    She shares in our excitements, dotes on our achievements, and lovingly sympathizes with our hardships.  Would it be cliche to say she is the glue that keeps us all together?  Why yes, yes it would. (but really, she is)
Your advice to other moms: Life happens too quickly – enjoy the time you have now with your little ones!
Thank you Camille. I might be a bit biased because I love Camille so much I tell everyone she is my sister BUT she really is wonder woman. I look up to Camille a lot, thanks for being my Monday Maven
Tags: Monday's Maven