Monday: Weekly Family Activity—Road Trips
Road trips can be downright painful. At the beginning of all our trips the little girl you see pictured below throws herself into such a frenzy it knocks her out and she falls asleep for a few minutes. When she awakens she's totally over what was bothering her before she conked out!
A few awesome bloggers have posted some great tips in the past about traveling with kids.
Riding in Cars with Kids video by Mom Most Traveled
Tips from SuperMomCentral under her Trippin' Mommy Category
Simple Mom's Tips for Packing Light with Small Children
Traveling With Kids — by Guest Mom Skye Hoppus on Design Mom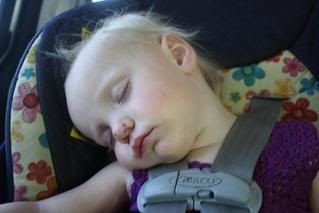 My two cents: Drive during nap or bedtime and teach them to "make-do." Hopefully that doesn't sound harsh but I know with my kids when they are constantly being offered a different activity or have my attention the whole drive they tend to act out MORE. When I just talk about what I see outside or let them read books from the small bag I always have in the back, they are more calm. Most importantly they really do learn that when we go on long road trips it is a peaceful time when they can take a nap, look at the pretty things outside or listen to music. We also try to give EVERYONE in the car a break by driving during nap or bedtime. Every child is different though, and I guess I am very lucky they both sleep in the car!
Do you have any road trips planned this year? What are your tips for driving with kids?
Tags: monday, road trips