Letter of the Day: Letter P
Scroll down for the giveaway.
I try to incorporate reading, music, art, gratitude, exercise, nature, touch, and a family activity into teaching the assigned letter. We actually spend two days on one letter, so we have enough time for all the fun activities and all the regular things that goes on in our day to day life. Then after a couple letters we have a day where we play a treasure hunt all with clues reviews the letters we have done.
Letter P
Reading: Pigs, Princess, Puppies…. check them out:

Music: We love our Frontline Phonics Magnetic Fridge Set because it plays the whole alphabet and a song teaching each sound of each letter.

While we work on our art projects we listen to the corresponding track on The Sesame Street Alphabet CD.
Art:We made our art  college with a huge pink pocket on the front covered in polka dots.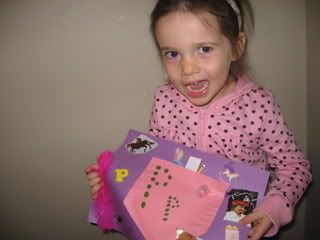 We also made some finger puppets and put on a show (I will post about that in a couple weeks.)
Gratitude:For our Gratitude Alphabet Abby drew a picture of princesses.
Exercise: Push ups!
Nature:  We saw tons of pigs at the animal farm.
Touch: We took our pink pom poms and put them in the shape of the letter a few times.
Family Activity: Abby helped me plan a PARTY!!
Tags: Letter of the Day