Letter of the Day: Letter G and Wrap Up
I try to incorporate reading, music, art, gratitude, exercise, nature, touch, and a family activity into teaching the assigned letter. We actually spend two days on one letter, so we have enough time for all the fun activities and all the regular things that goes on in our day to day life. Then after a couple letters we have a day where we play a treasure hunt all with clues reviews the letters we have done.
Here are some ideas for Letter G
Reading:
We of course read our Sound Box G Book and….

Music: Good Morning Song by Greg & Steve, we sing this every morning so I just made sure to explain to her that good started with g and we over pronounced the g song while we sang:
Good Morning, good morning, good morning to you!
The day is beginning so much to do!
 Good morning, Good morning, good morning to you!
Art:Abby went out in her Galoshes and picked some Grass to design her letter G out of.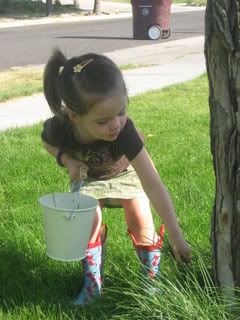 Gratitude:Our Gratitude Alphabet is coming along, Abby drew a picture of…her Grandmothers of course
and what she loves to do with them.

Touch: We dumped out some sand into an old cookie pan and traced the letter G with our fingers over and over.
Exercise: Goodnight tag. When one of got tagged we had to go nighty nighty on the ground till someone tagged us again
Family Activity: Make and Takes had this cute idea for Frozen Grape Pops so we made and ate these as a family. This is our new favorite summer time snack.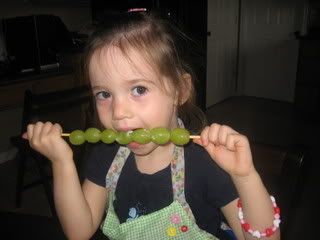 Celebration: We had a treasure hunt with the treasure being some chocolate gold coins at the end, click here for treasure hunt instructions.
Tags: letter g, Letter of the Day