Letter of the Day: Ideas from Letter B, Letter D and Wrap Up
(The giveaway is a few posts down)  
I try to incorporate reading, music, art, gratitude, exercise, nature, touch, and a family activity into teaching the assigned letter.  We actually spend two days on one letter, so we have enough time for all the fun activities and all the regular things that goes on in our day to day life. Then after a couple letters we have a day where we play a treasure hunt all with clues reviews the letters we have done.
Here are some ideas for Letter B and Letter D
Reading: We Start off with each letter by reading the letter book from the series, "My Sound Box" I haven't been able to find where you can purchase them online but they had all of them at our library.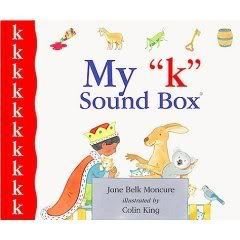 We read these books that we already had at our house, I am sure you could find MANY others at the library (Each box is for the two different letters, Letter B and Letter D):

Music: We listened to the B and D track from out Sesame Street Album:


We also listened to "I Really Love to Dance" a few times from the Laurie Berkner Album for the Letter D:

Art:We made our art colleague out of magazine clippings from the letter D, ours were mainly covered in Dogs because that is part of our life. I had Abby go through the magazines to pick out the actual letter D to paste on the picture. For our letter B, we made it out of Blue Pom Poms and Blue Feathers.
Gratitude: Abby colored a picture of her Daddy and dogs to hang up on our wall in our gratitude alphabet. For the letter B she did Becca and Butteflies!
Exercise: We went outside and "Bounced Balls" and did some DANCING! We boogied to this album:

Nature: There is a small pond next to us where ducks swim, so we fed them some leftover crackers and took time to name all the ducks
Touch: Finger Painting the letter D, in all of hte different colors we have. For the Letter B we had fun forming the shape of the letter with feathers, pom poms, sand, rice, etc.
Family Activity: Abby and her Dad made some yummy Banana Bread. My husband makes the best banana bread in the whold world. Here is the recipe:
1/2 cup oil
2 eggs
1 cup sugar
3 bananas
Mix
2 cups flour
1 TBS soda
1 pinch salt
Add to greased and floured pan. Bake 350 for 25-30 minutes. This makes one loaf, I think one thing that makes it so yummy is he uses a hand blender to make the bananas almost creamy.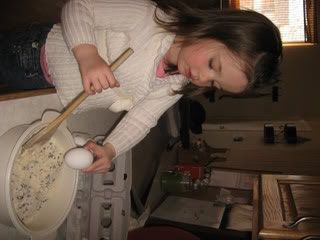 Celebrate: We wrapped up this week's letters C, B, and D with a fourth of July treasure hunt. Our clues asked Abby to name words that began with one of hte letters, asked her to recognize the letter, and also to tell us the sound the letter makes. At the end of the treasure hunt was her 4th of July dress. (I always use things I know I am going to give my kids anyways for their treasure
)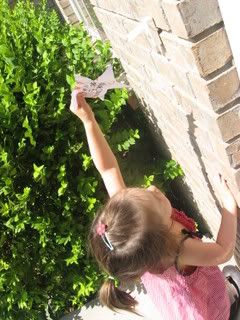 Tags: letter b, Letter of the Day