Just What I Needed–Moms Who Make It Conference
The Moms Who Make It conference was just what I needed. Sure, it was fun to be a Backstage Blogger (aka one of the "Sexy Six") but I really needed to hear everyone's beautiful messages and know I was there for a reason! I don't want to give TOO much away from what I learned because you just should have been there, but I did want to share a bit from the classes I attended.
Eating More Fruits & Veggies on a Budget – Melissa Chapell, RawMelissa
Healthy Mommy, Healthy Baby – Melissa Chappell, Doula Melissa
Raw Melissa taught me that AT LEAST 51% of your diet should be plant based; non-organic plants have 30% less nutrients and vitamins; when you are eating healthy your body will crave what you need. If we took away just one thing from her class it was that dark leafy greens are extremely important. She also helped me with ideas on what I can do with myself and my girls' low iron problem. Melissa also has me completely addicted to her macaroons. Completely.
Beauty is More than Skin Deep – Cheryl Edvalson & Jill Nigbur, Skincare – Holistic Beauty Practice
Enhance Your Beauty with Make-up – Cheryl Edvalson & Jill Nigbur, Skincare – Holistic Beauty Practice
In the next class I got myself all done up as the model for the skin care and makeup class, which made me feel all "purty" during the conference. A big thank-you to these sweet and incredibly knowledgeable women!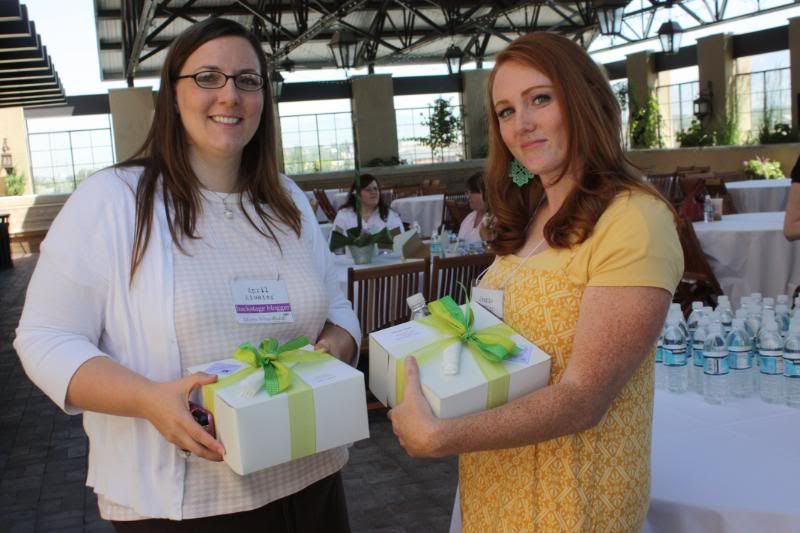 We broke for lunch where I had once again way too many RawMelissa macaroons and her vegan meal. Check out how pretty all the other meals looked too! I was proud of myself for actually…mingling!…talking to new people! I am so terribly shy and so yes, I was proud of myself!
Backstage Blogger Panel Discussion: Most Important Things a Mom Blogger Should Know
– Backstage Bloggers (April, Evonne, Holly, Jonie, Lauren, Vanessa)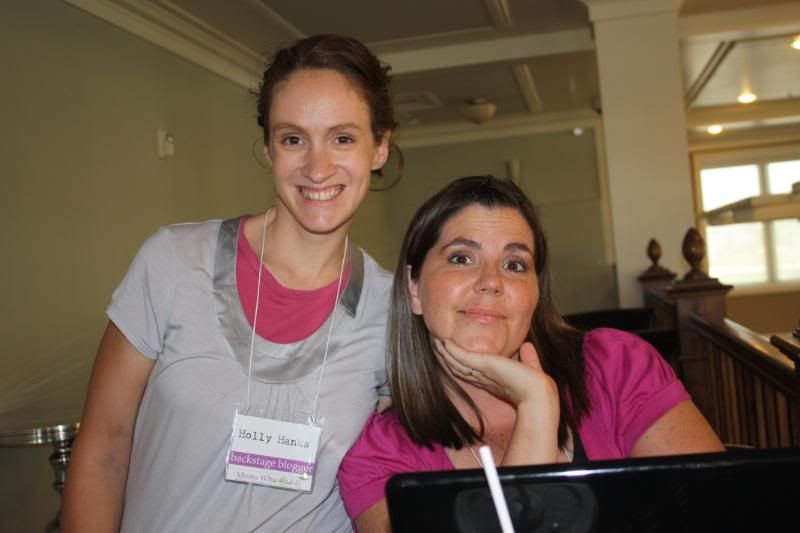 Next…was the part where I almost croaked. We were not prepared to do this panel and then two minutes before it began I was asked to be the moderator and mold the conversation. I once again surprised myself–see, I totally grew at this conference!
Getting the Search Engines to LOVE Your Site – Seth Jenks, Graphic Designer/SEO Expert
Social Bookmarking: What Is It & Why do I Need it? – Josh Unfried, MomFaves
Then Seth Jenks taught us a bit about page rank, using keywords, how to create "link juice" and good suggestions on helpful sites like marketsamari.com and knownem.com. And then Josh from MomFaves made me the HUGEST, NEWEST MomFaves.com fan! I am all over that site now! I love it! Such a beautiful message, unique concept and wonderful couple behind everything.
Harnessing Creativity to Build the Life You Want? – Kim, Owner/Manager, YouCanMakeThis.com
Seeking the Rainbow During the Storm? – Cari Greer, Owner/Manager, Sole Desires
The keynote speakers that afternoon were such an inspiration. I didn't really take notes or spend a lot of time tweeting; I just remember how I FELT, how it INSPIRED me, how my love for all the women in that room just GREW.
Panel Discussion Using Difficult Life Situations as a Catalyst to Change
Moderated By: Cinthya Jones, aka Sugar Jones  photographer, mom-blogger, mom-enthusiast
Pamela Baumeister – Editor in Chief, Wasatch Woman Magazine
Rachael Herrscher – Todays Mama/Utah Mama?s Handbook
Kelly Anderson – Startup Princess
Melissa Chappell – Personal Chef, Raw Melissa
Quinn Curtis – CreatedByMom
This panel made Evonne and I cry because we are both totally sympathetic criers, and just…these amazing women, all they have accomplished and all they have been through. Such incredible inspirations, every single one of them. This helped remind me that you never know what someone has gone through, you don't know what has made them strong and that as women we JUST NEED TO SUPPORT EACH OTHER!
Trend Forecasting: Keeping Your Business Hot – Angela Hansen, Trend Forecaster
Getting Press for Your Products/Business – Pam Baumeister, Editor in Chief, Wasatch Woman Magazine
I attended this class mainly for my clients but ended up learning a lot myself. Pam gave me confidence throughout the day to realize that even though I don't have a college degree, I am still "in an elite group" of many other successful entrepreneurs who did not finish college. I can stop feeling ashamed and embrace who I am.
Embracing Your Inner Artist – Rhonna Farrer, Graphic Designer, Rhonna Designs
Letting Your Creativity Out to Play – Jefra Linn, Photographer, Jefra Linn Photography
Faith in Entrepreneurship – Kelly Anderson, Startup Princess
This was the last class I attended and what Kelly Anderson spoke to us about was the whole reason I was supposed to be at this conference, and I knew this the minute she opened her mouth and announced her topic. I needed to realize that God is the creator, he loves creation and I need to involve HIM in my process and then I will see such growth and doors open. Thank you, Kelly!
Why Moms & Going After Your Dreams Matter – Josh & Rebecca Unfried, MomFaves<
Living Your Dream: The Power of Living Your Purpose – Laura Biswas, Financial Coach, Embrace Your Financial Path
Even though I was pretty burned out by the time our closing speakers took the stage, I was so overwhelmed with emotions, feelings, inspiration I still had a little left in me to gather more. Josh and Rebecca of MomFaves are the perfect example of putting your heart and love into your business. They are such role models to me and once again, I am the newest, biggest fan of MomFaves.com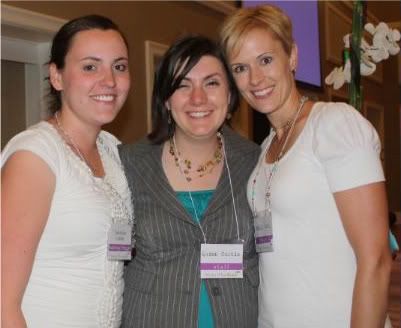 Thank you to Quinn and Emily. All of the tears, frustration, happiness, hours of time you put into the conference has changed ME. I just love these two ladies so much.
And lastly, for the part you have been waiting for….the AFTER PARTY!!
P.S. Ladies it is TOTALLY your own fault you have no ammo against me—I gave you the Elaine dance and no one was smart enough to RECORD IT! HA!