Giveaway #54—Mother's Day Gift from Photofiddle.com
The winner of this giveaway is Becca, chosen through random.org who said, " I love all the fun options that Photofiddle offers!"
Photofiddle.com instantly transforms any photo into artwork in minutes. They are the only website that gives you an instant preview of their design before ordering, and if you're not happy with your design, their art department will create a custom design at no additional fee.
This is one of my favorite pictures of my girls–they're simply having fun together, lost in the moment. I chose this one to get "fiddled." For my Photofiddle effect I had a variety of different options: Oil, High Detail Watercolor, Soft Pastel, Deep Sponge, Impasto, Fantasy, Modern, Low Detail Watercolor, Color Edge, Kaleidoscopic, Comic Book, Color Sketch, Color Pencil, Charcoal, Color Box, Abstract, Air Brush, Pop Art, Light Pegs, Photo On Canvas or in Sepia, Blue, Green or Red.
I chose Charcoal and was thrilled with the beautiful canvas that arrived at my house today: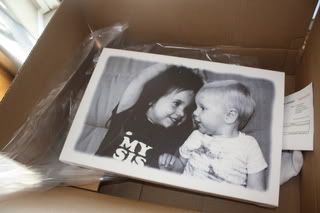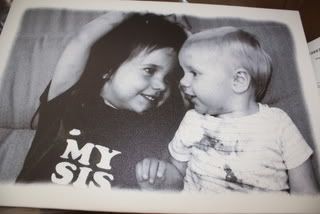 To see other examples of what you can do with your photos check out their Photofiddle before & after gallery.
Photofiddle is giving I Never Grew Up readers a 5% discount code. The code is grewup15; simply enter it on the shopping cart page in the promotion code box and click "Apply." Artwork from Photofiddle would make a wonderful Mother's Day gift this year!
I was not familiar with Photofiddle but quickly discovered they've received tons of press and been featured on some exciting networks:
The Photofiddle.com site went online in June 2004 and not too long after the launch we received a bit of press from the Washington Post, USA Today, PC Magazine & more.  What really put Photofiddle.com on the map was when Oprah put us on the O list in 2006.  More recently, the Today Show picked Photofiddle.com  as a great DIY decorating idea, the CBS Early Show featured us as a best Mother's Day gift idea, and the New York Times editor wrote a great article including Photofiddle.com. Photofiddle.com was recently voted by the viewers of the CNBC show "The Next Big Idea" as a million dollar idea.
Photofiddle is giving you the chance to win a $50 gift certificate for Mother's Day! (The canvas I chose is just one of the options your certificate would buy!)
For the chance to win this giveaway:
– Comment on this post ONCE
– Blog about this wonderful giveaway to have yourself entered 10 additional times
This giveaway ends April 24th so hurry!