Friday:Play!—Simple Water Fun
This is the simplest idea but I thought I would share. I didn't think of this when I was a brand new Mom, my mother told me to give it a try!
My baby girl is not to sure about the "big kid" splash pool. Some days she likes it, other days she screams and some days she will try to flip herself out of it!

I have found that she always loves sitting on the back porch with a few pans full of water, a couple toys to splash in and absolutely loves when I pour water on her from the watering can.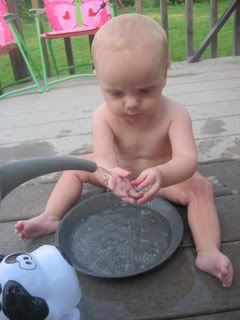 Simple idea but she loves it.


Tags: friday, play water fun