Friday:Play!—Board Games We are Lovin' Right Now
I found this game last summer through the Land of Nod catalog, we didn't bring it out until a couple of months ago. My daughter was not old enough for the age requirement on the game but I thought she might enjoy. She caught on quick and it is her new favorite thing to ask for.
As a mother, I was thankful for the great quality it is, the parts are very durable, hard to bend and the checkered tablecloth it good durable fabric also.  
You spin to gather a plate, utensil, fruit, desert, main dish, vegetable and drink. If you land on the ants, they take one of your items. When you get everything, you win!
It will help your children learn to categorize and help with decision making skills. AND it is nice to have something tell them you need veggies and fruit other than their Mom
 Don't Break the Ice
Remember this game from your childhood? It has been around for more than 30 years.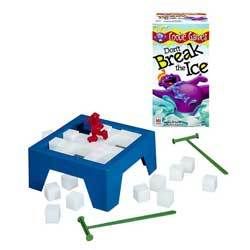 Tap out the ice blocks one by one.
They won't melt when you are done!Take your time and do some thinking
To keep the polar bear from sinking.
To win, the bear must stay on top.
One wrong block—he'll go ker-plop!
When I was a nanny, one of the families I worked for, had a lot of money, and so the kid's Christmas toys were amazing, and lots of them too. I gave them all this game for a present, and when I came back to work after the holidays I was in trouble! The parents told me the game I gave them was their favorite present and the only thing they wanted to play the whole time I was gone.
Cranium Hullabalo
This is a game to help your child get their wiggles out! Dancing, jumping, stretching, hopping, swimming, and slithering.
It is a great teaching instrument to help your child with shapes, colors, categorization and following instructions.
Here is more detail on the game from the website… "Players move from one colorful shape to another and use their bodies to perform the many Hullabaloo moves — touch your nose to a circle, spin to a red, put your elbow on a musical instrument. When Hullabaloo says, "Freeze!" the player on the lucky pad wins! Every few minutes there's a new winner who gets to take a bow, make a victory jump, or do a funky monkey dance.It comes complete with a Hullabaloo talking audio console and 16 colorful play pads. Kids bounce, twist, spin, and high-five as they follow along with the announcer, moving form one colorful floor pad to the next. They'll do fun things like:
Walk in slow motion to a triangle
Bounce to a musical instrument
Touch their nose to a yellow pad while touching their foot to a square
High-five every player they can reach
Say "Oogety boogety boogety boogety boo!"
When the Hullabaloo announcer says "FREEZE!" kids stay still and wait to find out which pad is the lucky pad. Everyone touching the lucky pad is a winner!
Every round ends with the winners celebrating by taking a bow, dancing, or doing a victory jump. With 1- to 3-minute rounds, winners are frequent!
The Hullabaloo electronic brain ensures no game is ever the same. Kids control how long (or short) they play — simply push a button for more rounds of fun."
Share what board games your family enjoys in the comment section below.
Tags: board games, categories, Children's Products, colors, decision making skills, Friday:Play!, games, shapes