Friday: Play!—Yoga
This week we started using the Yoga Mats and DVD that Santa brought each member of the family for Christmas.
This is something I have felt a strong need to start with my soon to be three year old, she can be extremely anxious at times and I know this will help her.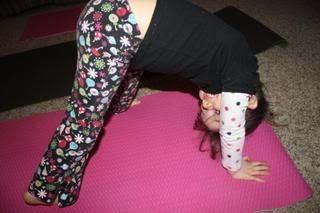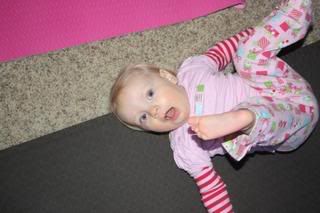 Yoga can be a fantastic family activity, a wonderful thing to do for playtime and can be a good example of the importance of exercise to your children.
  The following list of the beneifts of yoga are from White Mountain Yoga, which will be hosting a fabulous giveaway on our site this weekend.
Stronger Bodies
Build developing strength and natural flexibility to minimize injury
Improve body awareness and coordination
Experience the joy of movement free from competition
Improve breathing safely
Focused Minds
Instill a healthy well-developed self-esteem
Cultivate mental concentration and attention
Reduce stress and learn problem-solving skills
Encourages feeling good as chemistry of the brain is balanced
Peaceful Spirits
Encourage creative expression and imagination
Enhance body image and self-acceptance