Friday: Play!—Take Advantage of Your Local Resources
I think I have done a post similar to this but I just want to remind everyone to use your local resources to help entertain your children!
I just put the girls down for their naps after a long and fun day at the library's annual Princess Party! They went all out! They decorated their meeting room in all things princess. They told stories using books, felt board and puppets. They had interactive games of guess the princess, guess the royalty, and guess where Prince Charming is hiding. They even did If Your Happy and You Know it, Princess Style. At the end they passed out a magic wand (cut out stars attached to a bendie straw) and had stickers, glitter, beads, ribbons, buttons and coloring materials to decorate them with.
There were about 50 little girls there all dressed in their princess dress ups. Boy was it fun! And free!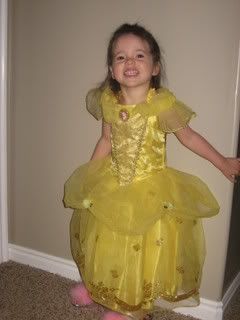 We also take advantage of the classes our city offers. They are fairly in-expensive, fun, and just the right amount of time. My daughters attend the Wee Sing class where they sing songs with different props and run around like crazy.
They also have a local art museum where they have weekly "family nights" at the museum where the incorporate the importance of art.
Stop by your city center/library and see what they offer in your area.


Tags: city center, friday, library, play!, princess