Friday: Play!—Mother's Day Craft
Attention, dads! This is a very quick and simple craft you can do with your kids. They can give it to Mom for Mother's Day complete with the traditional Mother's Day breakfast on the top!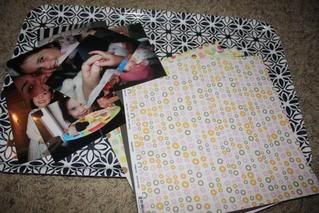 Supplies:
Some of Mom's favorite pictures, your children's "masterpieces" or poems written by the kids
Mod Podge
Craft glue
Paintbrush
A few pieces of scrapbook paper
Serving tray, new or old
Directions:
If you are using an old serving tray, sand it down a bit and repaint it with Mom's favorite color.

Arrange the photos, your coloring masterpieces or a poem for Mom on the tray.
Put her favorite pictures on scrapbook paper to add a bit more color.
Attach everything with craft glue and let dry.

Slather the whole tray in Mod Podge glue. Don't worry, it will dry clear! This way none of your pictures/drawings/poems will come off when she eats her special Mother's Day breakfast!
Tags: friday, mothers day, play!