Friday: Play!—Melissa & Doug Puzzles
Puzzles
Melissa and Doug puzzles are just amazing! They are easy enough for my almost two year old to do and durable enough for my 5 month old to slobber all over. We can play pretend with all the animals, learn our numbers and letters, and not worry about anything breaking.
There is a craft store in my area, Roberts Arts & Crafts that you can get any item 50% off at least one day a week. The puzzles are usually 12.99 or 19.99, which makes such an amazing deal when I have the coupon. My aunt sells them for such a great price, I am not sure how she makes much of a profit, at www.sourgorilla.com
This week I am working on recognizing numbers 1-20 with my almost two year old. I have found if I somehow incorporate Dora into the activity, she can pay attention for quite a bit longer. We have this little car with Dora and Boots in it and we lay out all the puzzles pieces, 1-20.
"Hola I'm Dora and this is my friend Boots" I say
"Would you like to play a game with us?"
My daughter looks at me very concerned and worried….
"GREAT!" I say
Now she is all into it
"Lets catch all the numbers, will you help us?"
Then I call out a number and have the Dora car race on top of the number if she gets it right and we throw it up int he air (be careful with this part!!, I have knocked us on the head a few times)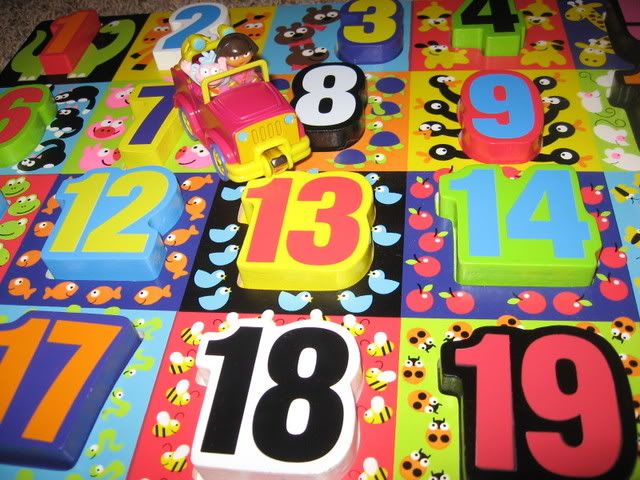 The puzzle pieces are so more colorful and durable than just flashcards, I am on my way to buy the alphabet one!
Tags: animals, Children's Products, coupon, dora, durable, education, friday, learning, letters, melissa & doug puzzles, numbers, play!, pretend, puzzles, roberts, sour gorilla, toys