Friday: Play!—First Flash Cards
The first set of flashcards that got both of my kids interested in learning, memorizing, identifying was the Baby Einstein: Animal Discovery Cards .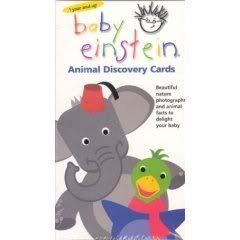 They are pretty durable, they have been through 2 kids as infants and 1 child as a toddler so I would say that is pretty good! And for the other thing I always look for, can they grow with the child? YES! There are great questions and fun facts listed on the back of each card that can be used for all different ages.

In my house we start with a few cards at a time, adding more cards every time we play. I usually have them find the cow or pig and then make the noise. Soon they start to say the name of the animal and then I can just make the noise of the animal, have them find the card and name the animal.

 With my two year old I list off one of the facts on the back of the card and have her find the right animal. We love these cards tons at my house, it is a great buy for any family!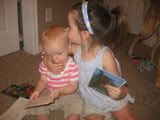 Tags: first flash cards for babies, friday, play!
4 Responses to "Friday: Play!—First Flash Cards"
August 1st, 2008 at 1:53 am

i want some of those for my child. i tried to make some for her but she's at the eating paper stage.

Erin

August 1st, 2008 at 1:38 pm

I love flash cards but they always fall apart I'll have to give these a try thanks for the idea. Gotta love Baby Einstein!

Deanna Godman

August 20th, 2008 at 3:16 am

I'm not sure how I feel about flash cards in general, because I'm just not sure that kids learn by rote (like math flash cards). From the pictures, though, these don't seem to be much different than showing her animal pictures in a book, except a bit more durable. I'll have to look into that.

Tani hosting

June 11th, 2011 at 6:50 am

Do you have a spam problem on this website; I also am a blogger, and I was curious about your situation; we have developed some nice procedures and we are looking to exchange methods with other folks, please shoot me an e-mail if interested.
Leave a Reply