Freebie: Best Dinner Ever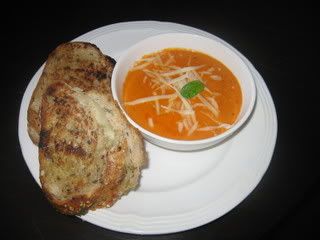 This is one of my go to meals for the week. I can't believe I never knew I liked tomato soup until a year ago–quite possibly the result of horrible canned tomato soup being my only try before this recipe:
Ingredients
Makes 6 cups
1 stick of unsalted butter
2 medium yellow onions, chopped
2 cloves garlic, chopped
28 ounces canned whole plum tomatoes or crushed tomatoes
2 1/2 cups of organic free range chicken stock (they sell this at Costco now!)
1 1/2 cup of cream or half and half
2 teaspoons sea salt
1/4 teaspoon freshly ground black pepper
Fresh torn basil and freshly grated asiago cheese on top.
Directions
Melt butter in a large saucepan over medium-low heat. Add onion and garlic; cook, stirring, until onions have softened, about 15 minutes.

Add tomatoes, chicken stock, salt, and pepper; bring to a boil. Reduce heat to low and cook until tomatoes, onions, and garlic are soft, 10 to 20 minutes.

Then add cream or half and half.

Working in batches, transfer soup to the jar of a blender and puree until smooth. Return to saucepan and place over medium heat. Cook until soup is heated through. If soup seems too thick, stir in some extra stock to thin. Serve immediately and top with basil and asiago cheese.
I serve it with some simple paninis. I buy some multi-grain bread from my local artisan bakery, fill it with pesto, mozzarella or provolone and tomatoes (that have been sprinkled with salt). I drizzle olive oil and both sides of the sandwiches and cook. I use a griddle and smush the paninis with the back of my heaviest largest pan. Mmmm Mmmm Mmmm
And Abby loves tearing up the basil, make our hands smell yummy for the rest of the day!

Tags: simple dinner