Freebie: Apple Jiggles
We had a lot of fruit leftovers, just a bit of this and that of lots of different things. I wanted to use it all up in something and found the perfect recipe in the Williams and Sonoma Kid's Cookbook.
4 cups apple juice
2 envelopes (1/4 ounce each) unflavored gelatin
2 cups mixed fruits (we used peaches, apples, grapes, raspberries, blueberries)
1. Have ready the 8 inch square baking dish. Make room in the fridge for the mixing bowl.
2. Pour 1 cup of the apple juice into the small saucepan. Sprinkle the gelatin over the apple juice and let stand until the gelatin plums up, about 2 minutes.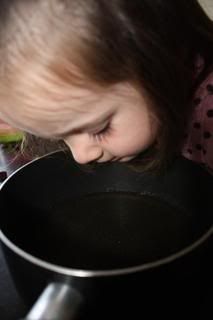 Set the pan over medium-low heat and stir with the wooden spoon until the liquid is completely clear and the gelatin is dissolved, about 6 minutes. Using the pot holder, remove the pan from the heat and pour the liquid into a mixing bowl. Add the remaining 3 cups of apple juice and stir until blended.
3. Set the bowl of apple juice and gelatin in the fridge. Chill, siting every 5 minutes, until slightly thickened, about 1 hour.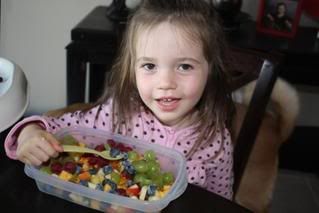 4. When the mixture is the consistency of unbeaten egg whites, remove it from the fridge and gently stir in the mixed fruit. The fruit will be suspended in the gelatin. Pour the mixture into the 8 inch baking dish, cover with plastic wrap, and refrigerate until firm, about 4 hours or for as long as overnight. Spoon into serving dished or cut into square and serve.