Fairy Princess Party #1–Fairy Attire
My baby girl is turning 3 next week and will be having her first "friend" party. I tend to over-do it when it comes to birthdays and of course this year I will be doing it yet again. It is the only day of the year where you really get to feel like a queen and be spoiled rotten, just the way it should be.
I am going to throw in a few extra posts until the party showing our fun preparations; just in case some of you out there have some fairies that would love to have a party too J You don't need a birthday to throw a fairy party!
We are throwing Abby a Fairy Party so of course, all attendees must be dressed as fairies and we will be supplying everything for them.
Fairy Crowns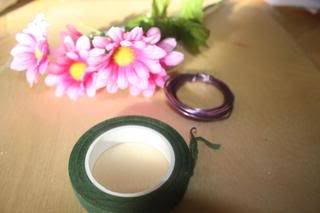 These are incredibly easy to make, you simply need some wire, green floral tape, flowers and ribbon.

You cut the wire to the desired head circumference and twist together the ends to make a circle. If you have to thin of wire just double up on it.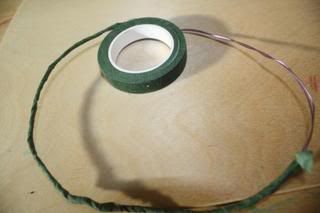 Then you wrap the wire in green floral tape.

When you wrap the tape around the second time add in the flowers and leaves. These flowers I just picked up in the dollar bin at Wal-mart.
I took purple, pink and silver ribbon and used a yard of it for each headpiece. I used a loop knot to attach it to the crown.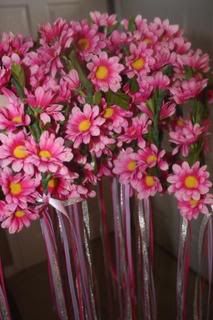 Fairy Wands
I love Oriental Trading, I let Abby choose whatever wands she wanted online. She choose the pack that had blue, purple, pink and light up…who wouldn't choose those? 😉
Fairy Wings
Last year at our local craft store they had these wings on clearance for a couple dollars each, I knew I needed them and am SO glad I picked them up!
Tags: birthday party, fairy