ARCHIVES Saturday:Shopping—Outlet Mall Bookstores
The giveaway is a few posts down.  
Outlet Mall Bookstores
I had two great finds when I went to Park City's Outlet Mall to Barnes and Noble. Baby Einstein's ABC Art Cards and ABC Alpha Books.
I got them at a killer price, but I would have payed full price for them happily, we use them every single day in my house. The Alpha Books are one of the best products, maybe even the top one that I have ever bought my toddler.
Baby Einstein—The ABCs of Art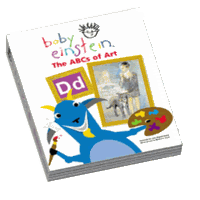 Each card has a fine art picture (from Van Gogh to Warhol), the upper case letter, lower case letter, and a list of ideas on the back. The questions on the back of each card will help your toddler enjoy the picture more, help her think about the story behind it, and further the learning of the letter.
Once again, something that always sways if I purchase something or not, this is definitely something you child will use throughout the years, that they can grow with. This is very interactive product, that you and your child can both learn from.
You can also buy this in a book form on Amazon.
Baby Einstein—Alpha Books
Introduce your child to the alphabet with these 26 (very very durable) mini-board letter books. They are very easy for the child to understand and catch on quickly. Each book has three real life photo or piece of art to highlight three words beginning with the featured letter.
We use them as flashcards, books to read, to help build her vocabulary, and we also incorporate them into games.
My daughter has been using these since she was 9 months old, they all have held up so nicely, and she knew all her letters before the age of two! This is a must have!! You can purchase it on Amazon.
Tags: cheap kids books, saturday, shopping